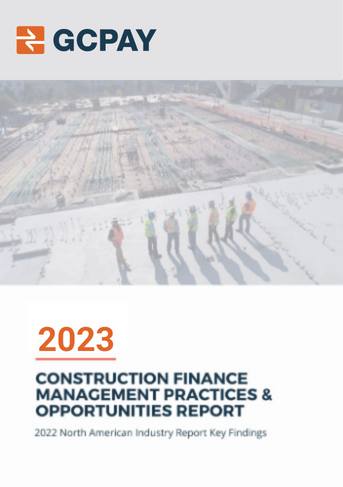 2023 Construction Finance Management Practices Opportunities Report
Payment automation trends for finance teams that make an impact
North American Industry Report Key Findings:
What this Report Will Give You
Identify opportunities based on trends you can apply to launch new projects in 2023 quickly.
Understand how new technology payment automation trends enable greater efficiencies with fewer manpower hours needed.
Learn where automation has been implemented for maximum benefit to the finance team.
What's Inside
This report goes into detail on what has changed since the pandemic, and what led the majority of contractors to make a change in how they manage their payment application process.
63% of general contractors chose to automate work rather than hire additional staff

>20hrs a month goes to managing pay app management

27% of general contractors are migrating to automated AFP processes

E-Payment has increased by 40% since COVID ended


* Based on data from 240 contractors