Dodge Construction Network 2023 Industry Report
Digital Transformation of Subcontractor Management
Discover how you can save money and time while streamlining your construction processes through technology and automation, with the help of insights and data gathered from industry peers.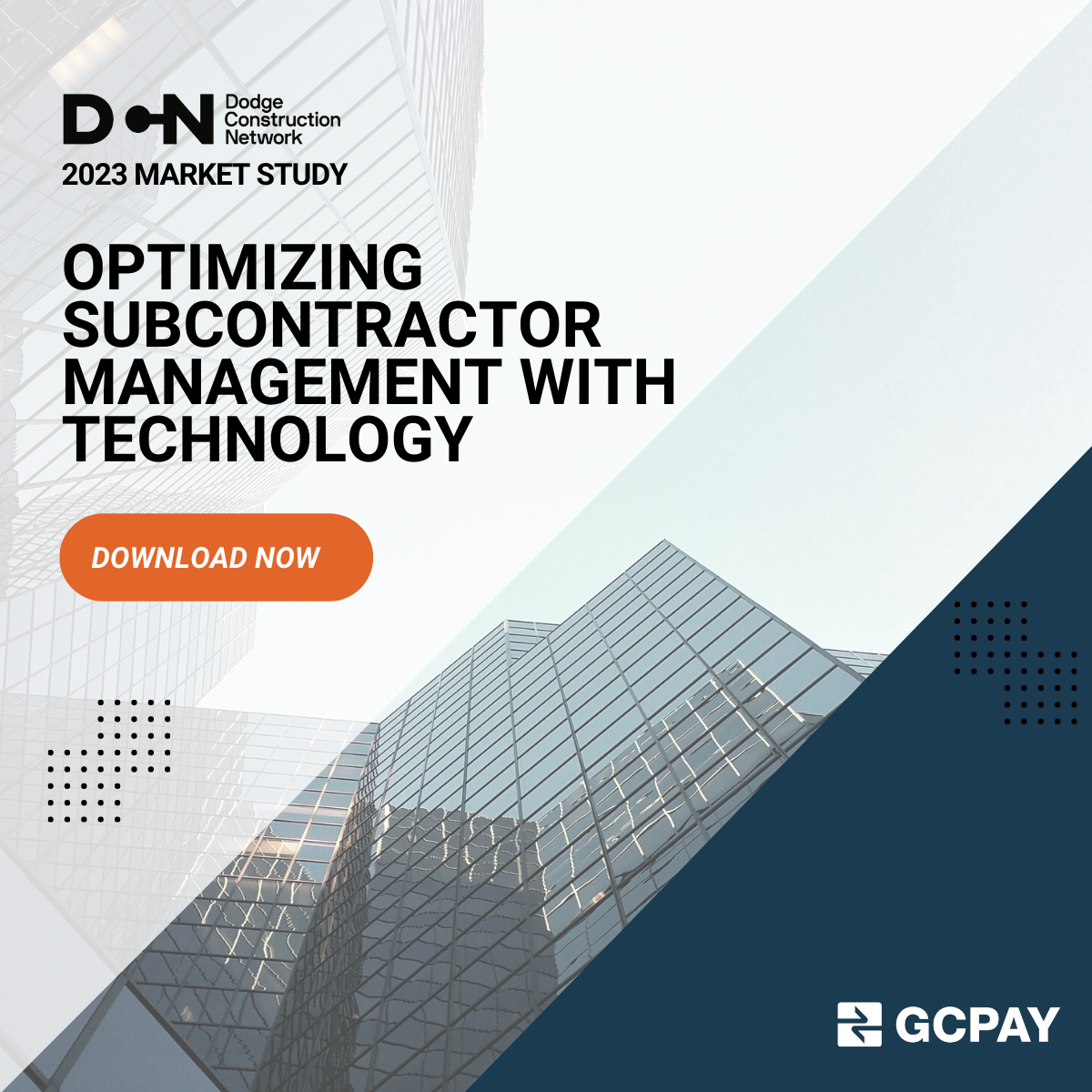 Dodge Data & Analytics Industry Report
About This Research Report
Dodge Data & Analytics partnered with GCPay to conduct a survey of midsize US contractors ($50M to $500M in annual revenue) that use subcontractors to evaluate their current use of technology for subcontractor management and identify where new adoption will focus over the next year.
The Benifits To General Contractors
Learn how general contractors are using technology to automate subcontractor management, saving time and money while eliminating errors and streamlining their overall construction management processes.
A lot has happened in the last 5 years. See how other general contractors are quickly transforming how they manage subcontractors to be more efficient and automated so they can save time and money.
Topics Covered
The report focuses on current and future technology use for the 12 subcontractor management processes, in two broad categories of Accounting and Finance as well as Contract Management.
In addition to technology adoption statistics, the report examines benefits, types of solutions used, integrations and the influence of owners.
Download The Industry Report
What We Do At GCPapy
Automate, Integrate And Simplify
GCPay Is Cloud-Based Construction Software For Managing Pay Applications, Lien Waivers, Electronic Payments And More.
Waivers are probably the nicest universal benefit. The contract/payment values and project specific details are automated on the waiver, reducing mistakes that previously would have resulted in revision requests, which would slow down the client application submittal process, and ultimately, the payment process to the subcontractor too.
Vince Montemurro
CFO, Riley Construction
More Than 50 Customers From ENR's Top 400 Trust GCPay